The payment bracelet: your electronic purse
This year, the ticket payment books will be replaced by bracelets called an "electronic purse". This bracelet will allow you to safely and easily settle all your purchases, whether in the federal village or at the reception points. You remain in control of the management of your electronic purse.
Gone are the weekend queues to retrieve the balance of your unused tickets. The amount will be paid automatically to the account you will have previously created.
Information on how to obtain the electronic payment bracelet, which is replacing the money vouchers, will be sent to you subsequently.
How to create a "cashless" account
• Log on to sf2017.cashless.fr (we recommend you use the Google Chrome Internet browser or Mozilla Firefox) to pre-order your bracelet and create your cashless account for the Federal Week 2017.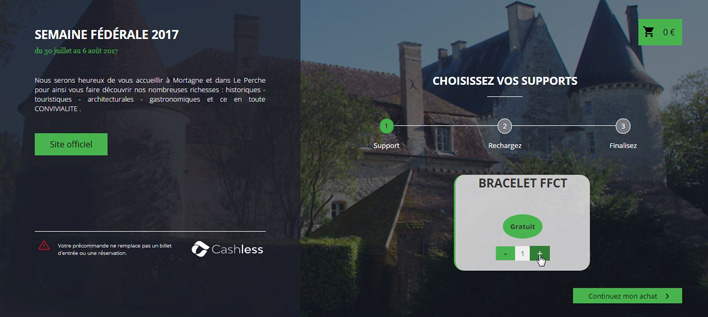 • Use the "+" and "-" buttons to select as many bracelets as there are people accompanying you, yourself and minors (every person must have a bracelet to access the federal village). Then click on the "Continue my purchase" button.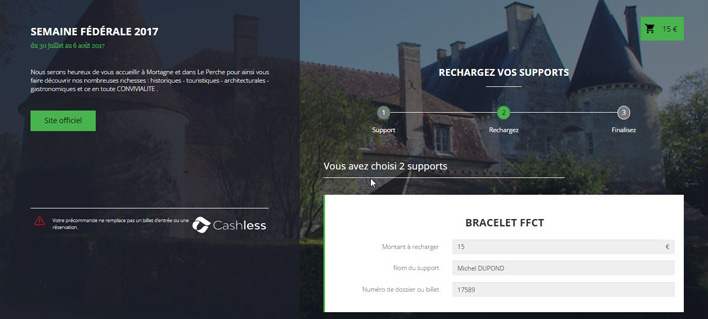 • Indicate the amount you want to reload on each bracelet (by default, the amount of 10 euros is indicated). In the box "name of wearer", indicate the surname and first name of the participant concerned by this bracelet and in the box "file or ticket number", indicate the file number of the participant concerned (the one indicated on the confirmation of registration at Federal Week). Then click on the "login / register" button.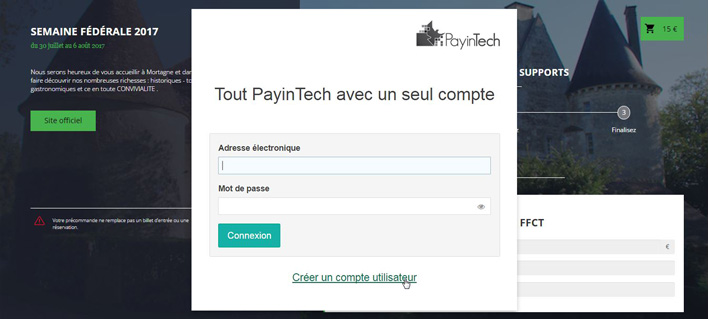 • A new window opens in your Internet browser allowing you to log in to your account or create one if you do not yet have a cashless account. Click on the "Create a user account" text to create an account.
If this new window does not open, your Internet browser, ad blocker, or antivirus software may block the opening of new pop-up windows. In this case, it will be necessary to temporarily deactivate the blocking of the opening of the new windows.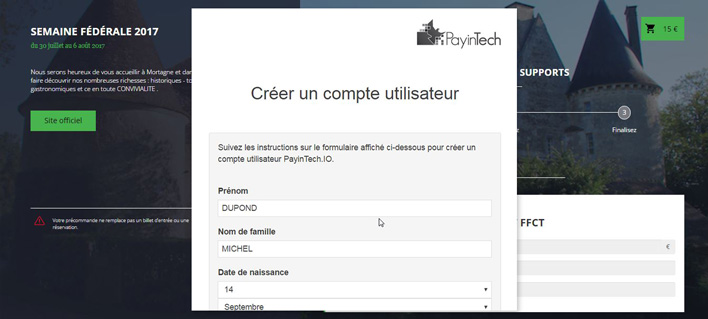 • Enter your first name, last name, date of birth, email address and your future password in the corresponding boxes, then click on the "create" button to create your account. The password must contain at least one lowercase, one uppercase, one digit, one special character and must be at least 8 characters long. When you click the "create" button, the window closes and you will return to the previous page to finalize your order.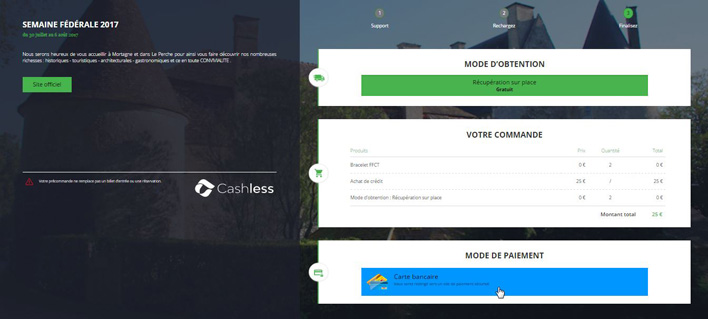 • Then click on the "payment card" button on the "bank card" button.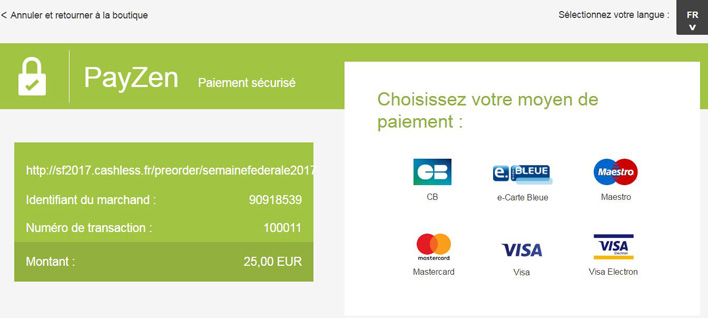 • You then find yourself on the payment platform. Choose your payment method (type of credit card) and then indicate the number of your credit card, its expiration date and its cryptogram, and finally click the "validate" button. You have the option to cancel the transaction if you have changed your mind by clicking on the text "Cancel and return to the shop" located at the top left of the page.
If you click on the "confirm" button, you will then be on the confirmation page of your order, where it is detailed. Click on the "Back to Media List" button. You will have to read the general conditions of use of your cashless account and click on the "I accept" button to confirm its creation. If you do not wish to accept the general terms of use, you can also click on the "no, thank you" button, but in this case your cashless account will not be created. However the bracelet will be preordered with the defined amount (sum of money paid from the payment platform).
If you click on the "I accept" button, you will find yourself on the page where you can associate a bracelet with your cashless account, and you have nothing more to do. The association between your cashless account and your bracelet (s) will be carried out by the COSFIC volunteers on your arrival at Federal Week, allowing you to find on your bracelet (s) the sum of money paid into your cashless account and the various services ordered (meals, etc.).