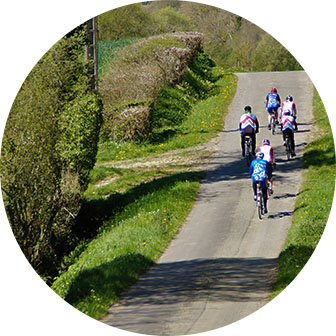 THE "GOOD HORSES OF LE PERCHE", AN INTERNATIONAL REPUTATION
A living emblem of Le Perche, the percheron horse charms and reassures with its tranquil force and muscular limbs. You may see some in the fields when leaving the Perche to go to Moulins-la-Marche and the Jean Gabin racecourse. You will return by going through the national forests of Moulins-Bonsmoulins, the Perche and La Trappe. In Soligny-la-Trappe, a Cistercian Abbey is still active. Near the abbey shop, you can take a break at the Saint-Bernard fountain.
---
2 circuits of 60 or 87 km to choose from 
• Departure: Km 0, Place de la République
• Meeting points and lunch in Moulins-la-Marche
• Today's BCN-BPF: La Trappe-Soligny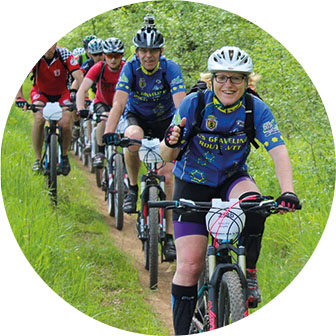 CAVALCADE IN THE FIELDS
From one valley to the next, you will criss-cross the countryside on steep-sided paths. These amazing trails offer you breathtaking views between meadows and farmland. Enjoy the conviviality of the picnic in Moulins-la-Marche before returning, full speed, to the percheron town.
---
2 circuits of 27 or 33 km to choose from
• Appointment at 9 am at the Carré du Perche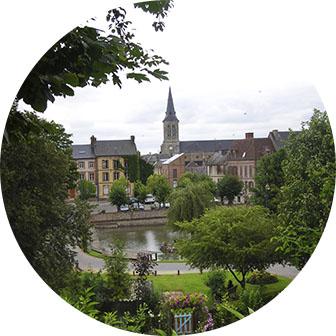 Far from the circuits with busy roads, the "Marche" country cultivates its rural space, its national forests and its art of living. Your journey will take you in the footsteps of the Knights of William the Conqueror, discovering the feudal mottes and the King's trenches. You will walk in the footsteps of the monks of the Abbey of Saint-Evroult, of the Comtesse de Ségur, the talented actor Jean Gabin, the philosopher Émile-Auguste Chartier known as Alain, and adventurers who emigrated to Canada or to the south of Italy. You will also follow the beginnings of industrialization, including iron works as well as many others.
---
1 circuit proposed
The "Jean Gabin" > 7.3 km
Saint-Aquilin-de-Corbion > Moulins-la-Marche
Rendez-vous at 9 am at Saint-Aquilin-de-Corbion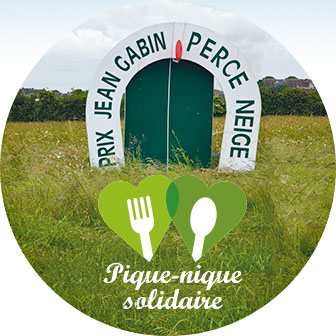 Rendez-vous at the Moulins-la-Marche racecourse for a wonderful picnic. Close to a farm belonging to Jean Gabin, this racecourse has welcomed many personalities having links with the French actor Lino Ventura, who sponsored horse racing for the benefit of the Perce-Neige foundation.
The Maison Perce-Neige will also take part in this family picnic. Located in the town, it accommodates adults with severe disabilities. At the end of the charity day, we have undertaken to make a donation to the association. Numerous attractions are organised for you, notably on the theme of the race horse and percheron horses. We are counting on you!
---
• Contact us by mail for more information